Animal Feed Processing
Pellet Cracker Machine
Pellet Cracker Machine is applied extensively to the crushing of livestock and aquatic pellet feed;
Controlled by variable frequency, the roll distributor ensures the even and continuous feeding of material on the whole width of the crush roller;


We're here to help: Easy ways to get the answers you need.
Product Introduction
Pellet Cracker Machine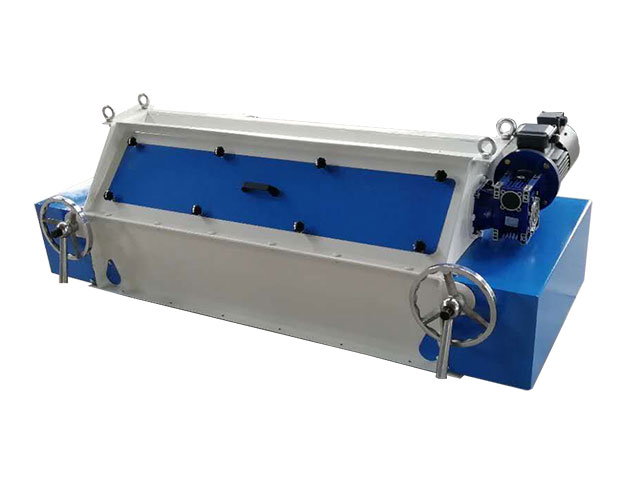 Pellet Cracker Machine is applied extensively to the crushing of livestock and aquatic pellet feed;
Controlled by variable frequency, the roll distributor ensures the even and continuous feeding of material on the whole width of the crush roller;
It ensures the material are evenly crushed so as to prolong the service life of crush roller;
Taking advantage of the speed differences of the two rolls, the roll crusher achieved the crushing of particles ranging from Φ1.2mm to Φ5.0mm with high rate of finished products and low rate of flour content;
Roll crusher with special gear pitch and gear shape are available to meet the need of users for different particle sizes after cracking.
Technical parameters
Pellet Cracker Machine Parameters
| | | | | |
| --- | --- | --- | --- | --- |
| Type no. | SSLG20×80 | SSLG20×110 | SSLG20×140 | SSLG20×170 |
| production (t/h) | 5-8 | 8-12 | 12-15 | 15-20 |
| With the power (kw) | 1.1+5.5 | 1.1+7.5 | 1.1+11 | 1.1+15 |
FAQ
If you're interested in our feed pellet processing machines, please kindly tell us the following requirement:

1. What's the feed pellet production capacity do you want?


R:we can supply feed pellet mill or production line with output from 0.1-30t/h.

2. What's your feed raw material and size and feed formula content?


R:Tell us feed material formulation,then we can design the suitable production line based on actual demand.

3. What's the final feed pellet diameter or size do you want or for what animal?


R:Our equipment can produce feed pellet diameter 2-8mm,for chick feed,we can produce crumb feed particle.

for chicken? cow? sheep?fish?horse? cow? or pig?or what purpose?