Animal Feed Processing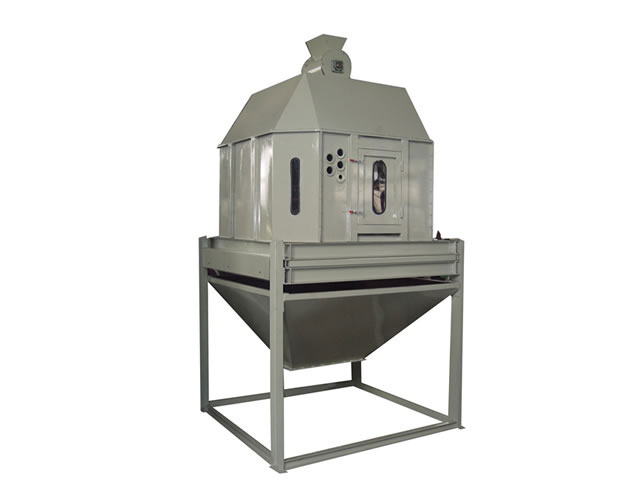 Counterflow Feed Pellet Cooler Screening Machine
This counter flow pellet cooler is widely used to cool finished pellets with high temperature or high humidity. It adopts counter flow cooling theory, and pellets can be cooled completely and evenly through the machine, which is good for the pellet packing and storage. The advantages is energy saving, easy to operate, preferred choice


We're here to help: Easy ways to get the answers you need.
Product Introduction
Counter-flow Feed Pellet Cooler Introduction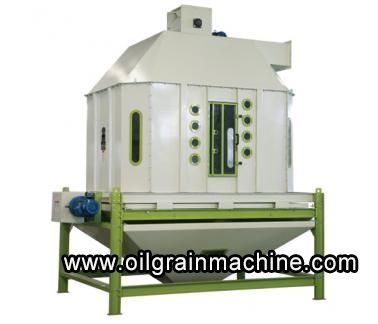 Cooling Part: This counter flow pellet cooler is widely used to cool finished pellets with high temperature or high humidity. It adopts counter flow cooling theory, and pellets can be cooled completely and evenly through the machine, which is good for the pellet packing and storage. The advantages is energy saving, easy to operate, preferred choice
Screening Part: It is applicable for screening of mash or pellet feed. Less fault, less maintenance, simple operation, adopting un-gear drive gear box, no need for lubrication avoiding oil leaking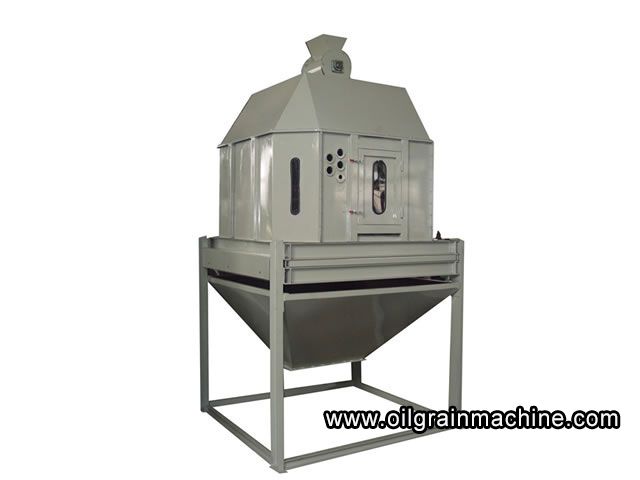 Cooler Features:
1、Using the principle of counterflow cooling particles for cooling high temperature, high humidity, avoid cold and hot material in direct contact and quenching phenomenon, and can prevent particles from the surface cracking, at the same time, feeding, because using closed wind and into the wind area is large, so the cooling effect is remarkable;
2、Using pendulum discharge mechanism, no residue phenomenon;
3、Low energy consumption, easy operation;
4、Finished product after cooling temperature is not higher than room temperature + 3 ℃ ~ 5 ℃;
5、Mainly used for cooling particles and puffing, expansion of material;
Technical parameters
Counterflow Cooler Parameters:
Type no.
SKLB1.5
SKLB2.5
SKB4
SKLB6
SKLB8
The cooling capacity (m³)
1.5
2.5
4
6
8
Production capacity (t/h)
3
5
10
15
20
Cooling time (min)
No less than 10-15
After cooling material temperature
Not higher than the room temperature +.3℃-5℃
Suction air(m³/min.t)
34
With the power (kw)
0.75
1.1
1.5
1.5
1.5

Close the fan power(kw)

0.55
0.55
0.75
1.1
1.5
FAQ
If you're interested in our feed pellet processing machines, please kindly tell us the following requirement:

1. What's the feed pellet production capacity do you want?


R:we can supply feed pellet mill or production line with output from 0.1-30t/h.

2. What's your feed raw material and size and feed formula content?


R:Tell us feed material formulation,then we can design the suitable production line based on actual demand.

3. What's the final feed pellet diameter or size do you want or for what animal?


R:Our equipment can produce feed pellet diameter 2-8mm,for chick feed,we can produce crumb feed particle.

for chicken? cow? sheep?fish?horse? cow? or pig?or what purpose?