Cooking Oil Production Line
Soybean Oil Pretreatment Flaking Line
Soybean oil production Line and Press line Machinery
The production of commercial soybean oil is complicated. The mechanical production of soybean oil with hydraulic presses is not much used because it's expensive and gives lower yields. Soybean oil is normally produced by extraction with solvents. The production consists of following steps:

We're here to help: Easy ways to get the answers you need.
Product Introduction
Soya Bean Oil Production Line

Cleaning of soybeans
The soybeans are first cleaned, dried and dehulled prior to oil extraction. The soybean hulls needs to be removed because they absorb oil and give a lower yield. This de-hulling is done by cracking the soybeans and a mechanical separation of the hulls and cracked soybeans. Magnets are used to separate any iron from the soybeans.
The soybeans are also heated to about 75°C to coagulate the soy proteins to make the oil extraction easier.
Extraction of soybean oil
First the soybeans are cut in flakes which are put in a percolation extractors and immerged with a solvent, normally hexane. Counterflow is used as extraction system because it gives the highest yield. After removing the hexane, the extracted flakes only contain about 1% of soybean oil and is used as livestock meal or to produce food products such as soy protein. The hexane is separated from the soybean oil in evaporators. The evaporated hexane is recovered and returned to the extraction process. The hexane free crude soybean oil is then further purified.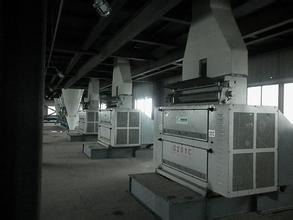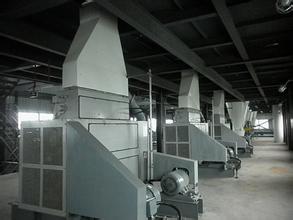 Purification of soybean oil
The crude soybean oil still contains many oil-insoluble and oil-soluble impurities that needs to be removed. The oil-insoluble material are removed with filtration and the soluble materials is removed with different processes including degumming (removing of phosphatides), alkali refining (washing with alkaline solution to remove free fatty acids, colorants, insoluble matter and gums) and bleaching (with activated earth or activated carbon to remove colour and other impurities.
Technical parameters
The whole soybean oil machine contains three workshops: soybean pretreatment workshop, soybean oil extraction workshop and soybean oil refining workshop.

Adopt the currently advanced process in the world, and domestic mature equipments.

Cleaning: In order to obtain high effective cleaning, ensure good work condition and production stability, high efficient vibration screen was used in the process to separate big and small impurity. Suction type gravity stoner removing machine was applied to remove the shoulder stone and earth, and magnetic separation equipment without power and exhaust system were used to remove iron. Dust removing wind net is installed.

Cracking:In order to ensure good softening and flaking effect, soy is generally broken up uniformly to 5~6 flakes and water distribute uniformly during softening, and flakes is thin and burliness.

Softening or conditioning: During soy softening, the flake is not only thin,uniform and toughness in favor of extraction, but also can make crude oil contain little no-hydration Lecithin convenient for de-lecithin and physical refining of salad oil.

Flaking:Flaking means a certainty granularity of soy lamella was prepared for flaked of about 0.3 mm, the oil of raw material can be extracted in the shortest time and maximum, and residual oil was less than 1%.

Drying: Moisture content of soy flake from flaking mill is commonly 12%, the optimal moisture content is about 9%, so the soy flake should be 9% by effective drying.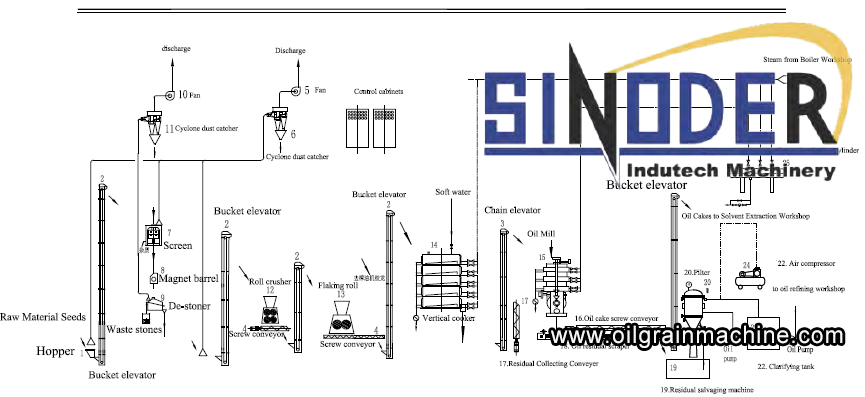 | | |
| --- | --- |
| Moisture of extraction material | 5-8% |
| temperature of extraction material | 50-55°C |
| oil content of extraction material | 50-55°C |
| oil content of extraction material | 14-18% |
| thickness of extraction cake | less than 13mm |
| powder porosity of extraction material | less than 15% (30 mesh) |
| steam | more than 0.6Mpa |
| solvent | national standard No. 6 solvent oil |
| electric power | 50HZ 3*380V±10% |
| Electric lighting | 50HZ 220V ±10% |
| Temperate of supplement water | less than 25°C |
| Hardness | less than 10 |
| volume of supplement water | 1-2m/t raw material |
| temperature of recycle water | less than 32°C |
The above information just for reference and will be changed when actual operation and design.
FAQ
What kinds of materials can be processed?

Press production line: peanut, sunflower seed, corn germ, cotton seed, soybean, rapeseeds, sesame , rice bran etc.

Solvent extraction line: soybean, sunflower and various pressed oil cakes, waste white clay etc.

Refinery production line: palm oil, peanut oil, sunflower oil, soybean oil and various kinds crude vegetable oil.

Biodiesel production line: Used cooking oil , various kinds vegetable oil and animal oil.

what we supply:

Cooking oil production line machinery including sunflower oil production line, palm oil production line, soya bean oil production line, peanut oil production line, cotton seeds oil production line, maize corn germ oil production line, clamelia oil production line, rapeseeds oil production line, canola oil production line, coconut cropra oil production line, shea oil production line, groundnuts oil line, sesame oil production line,black seeds oil production line, jatropha seeds oil production line,moringa seeds oil production line machinery and other projects.

Professional advice

If you are interest in our machines, please tell me your raw materials , daily capacity, requirements of final products, so that we can accord to your demand to amke a professional proposal.

If your are the new investor of this field, please let us know your whole plan and ideas , then we can accord to your basica demand to suggest you proper capacity and processing crafts.