Hydraulic Oil Press Machine for Extracting Oil from Sesame, peanuts,walnuts
Date: 2015-12-28 19:26:37 Source: Sinoder Indutech Machinery
Hydraulic Oil Press Machine

The hydraulic oil press machine is widely used in squeezing oil from vegetable oil seed,such as soybean, peanut, sunflower seed, cotton seed, sesame, tea seed, copra, jatropha curcas, castor seed ,etc. it is specially for the palm fruit better after adjusting its structure .

Introduction of hydraulic oil press machine :
1. It is this is a kind of hydraulic oil press machine,
2. Which can press sesame, cocoa beans, walnuts, almonds, and other high oil crops.
3. This is machine is very suitable for family using and small scale oil factories.
4. It is can press 1~30kg per time (12 minutes) by different oilseeds.
5. After pressed, the oil is very pure with good smell, can be edible for people directly.
6. it is durable using, which is the least to change the wearing parts.
7. It is made of stainless steel , so the oil can reach the healthy standard . Which is do good to people health.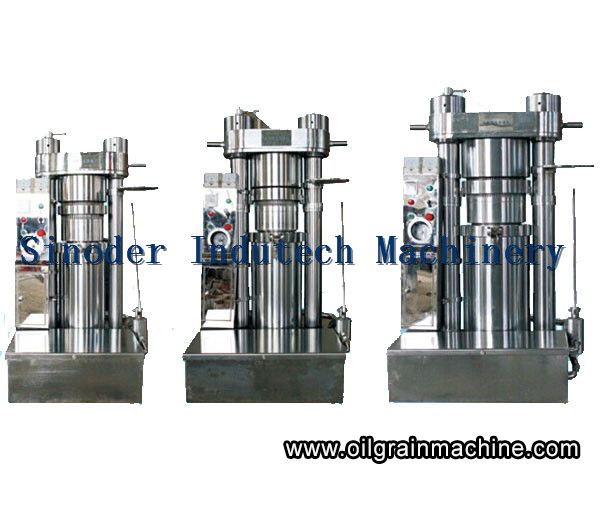 Description of hydraulic oil press Machine:
1) Main engine
Main engine includes base, upright, top plate, oil drip pan nut and so on , it is one of the main parts. Firstly the oil material is put into the assembly of the press boring ,then it being droved up by the oil cylinder piston ,oil will outflow from the gap of press boring ,and then pass the oil drip pan to the drum for oil storage.
2) Hydraulic system
Hydraulic system is the main power force of this machine, it includes transmission shaft, turbine, worm gear, gear pump, high pressure pump, overflow valve; super high pressure safety valve; handoperated valve; seamless steel tube; pipeline connect and other spare parts. This machine adopts the advanced power pack of the world, and compared with two plunger pump, it is faster , higher pressure and can resist higher temperature, it can continue working when the oil temperature is above 65 but needn't cooling unit.
3) Electronic system
Electronic system is the most advanced part of this machine, it is fully automatic, easy to operate, and there's no special request to the operator, so this machine is particularly suitable for peasant. This machine is composed of motor, volt meter, pressure gauge, power insurance and so on.

Hydraulic Oil Press Parameters:
| | | | |
| --- | --- | --- | --- |
| Model | 6YZ-180 | 6YZ-230 | 6YZ-260 |
| Maximum Working Pressure | 55 Mpa | 55Mpa | 55Mpa |
| Nominal pressure (KN) | 1600 | 2200 | 3000 |
| Heater Power (KW) | 1 | 1 | 2 |
| Heater Temperature Control | 70~100°C | 70~100°C | 70~100°C |
| Every time charging (kg) | 3.5 | 7.5 | 15 |
| Motor Power (kw) | 1.5 | 1.5 | 2.2 |
| Weight (kg) | 530 | 880 | 1320 |
| Dimension (mm) | 800*650*1100 | 900*750*1400 | 1100*1000*1500 |



Hydraulic Oil Press Performace Features:



1. This machine has the advantages of small volume and less land occupation; the operation is easy to learn, easy to understand, easy to operate, and needs not particular requirements to the operator.
2. This machine can save 50% power compared with stone mill.
3. This machine belongs to hydraulic oil press, and it has many advantages, such as high-pressure, high oil ratio, and the oil of final product is very clean.
4. This machine adopts full automatic control system, and no matter the preheat temperature or the pressure of hydraulic system, it is all automatic control.
5. This machine can be moved very easily.

Hydraulic Oil Expeller Application:

Regardless of the difference of the country climate condition, it achieved the effect of oil on the can truly. The machine adopts the forced feeding device. It has a uniform feeding rate and a high pressing speed. It can press peanut, soybean, rapeseed, sesame, sunflower, flax seed, tea seed, cottonseed, pepper seeds, walnuts, Tung seed, castor, almonds and other oil crops widely.

Suitable for cold pressing or hot pressing any oil seeds and oil plant, such as palm fruit, palm kernel, coconut, peanut, cashew, avocado, tiger nut, rapeseeds, peanut, sesameseeds, etc.

Packaging: Export wooden case, as required,which can protect our equipments without hurt and damage.
Shipping: 12 days by received down payment