Oil Filling Packaging Plant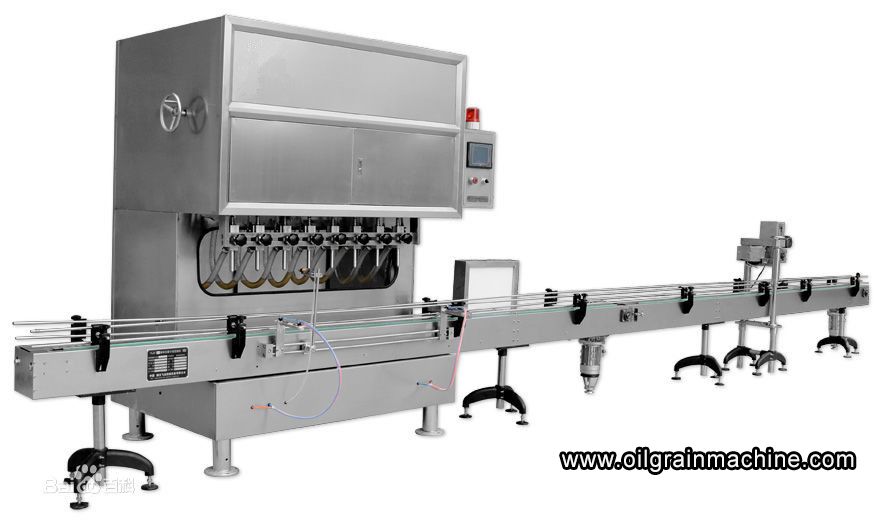 Volumetric Filling Machine
Linear type Oil filling and capping machine
This filling machine adopts linear filling and integrative controlling of mechanics-electronics-pneumatics. It is of superior performance and the modeling complies with international mechanical design concept. It is mainly applicable to a variety of viscous, non-viscous, corrosive and non-corrosive liquids, and widely used in the quantitative small packages of vegetable oil, lubricants, chemical liquids, and daily chemical products, etc.

We're here to help: Easy ways to get the answers you need.
Product Introduction
Automatic Edible oil Filling machine
is an extremely flexible filler capable of filling accurately and rapidly any viscosity liquids. Product delivery from your bulk tank to the pistons can be configured with a buffer tank utilizing a level-sensing float, a manifold with direct draw, or recirculation methods.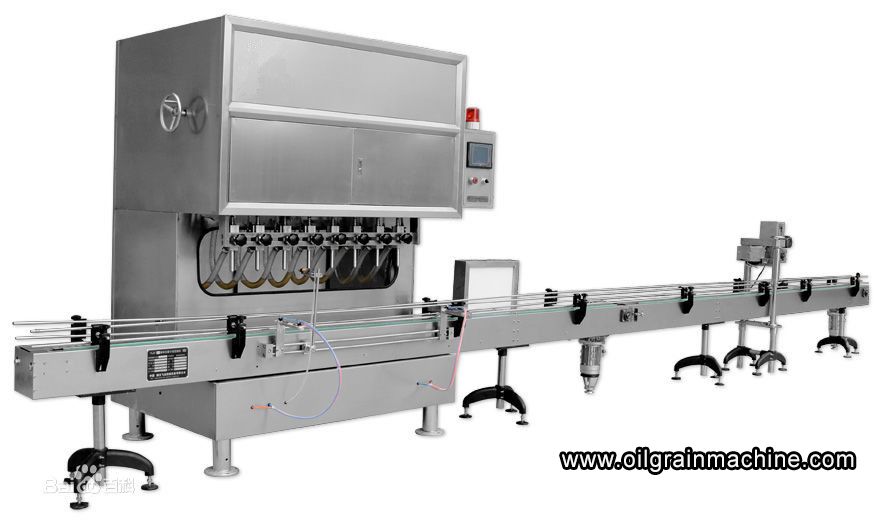 Oil Filling machine can be used for fixed amount small package filling,straight line type filling, metical, electric, apparatus control of all sorts of viscous and no viscous,erosive liquid,such as plant oil chemical,liquid,daily chemical industry.It is rather simple and rapid to change items,the design is quite distinct,the property is Very advantageous,its appearance corresponds to international concept for mechanical equipment.
Main Features:
1. Adopts piston pump to fill, suitable for all kinds of liquid, high precision; The structure of pump adopts shortcut dismantling organ, convenient to wash, sterilize.
2. The piston ring of volumetric injection pump use different material of silicone, polyclonal or other kinds according to liquid characteristic, use ceramic pump in special industry.
3. PLC control system, frequency conversion adjusting speed, high degree automation.
4. No bottle, no filling, auto count the quantity. And have the anti-drop device.
5. Filling quantity of all pumps is adjusted in a lump, minim adjustable for each pump. Easy and quick operate.
6. Filling head is equipped with anti-dropping equipment, diving to the bottom to fill, rise slowly, to avoid bubble.
7. The whole machine is suitable bottles in different size, easy adjusting, and can be finished in short time.

Labeling Machine & Oil Filling & Capping & Conveying & Ink-Jet Printing Machine & Sealing Machine and Conveying Line
Technical parameters
Oil Filling Machine Parameter:
Parameter

Unit

MODEL SNCY SERIES

Number of heads

PCS

12

10

8

6

4

Filling volume

ML

200-6000

Productivity

BPH

1600-4000

1400-3200

1200-2600

1000-1900

720-1300

Filling tolerance

%

<0.5%

Power consumption

KW

1.5

1.5

1.5

1.2

1.0

Gas pressure

MPA

0.55-0.8mpa

Gas consumption

M3/MIN

1.6

1.4

1.2

1.0

0.8

Dimensions

MM

2000*1300*2800

2000*1300*2800

2000*1300*2500

2000*1200*2500

2000*1200*2400
FAQ